SPECIFICATIONS AND APPLICATION

P Gasket installs at the log builder's site during construction or upon tear-down prior to shipping.

Stapling flange secures P Gasket in the laterals and seals the vapour protected insulation in the notches.

Logs arrive at customer's site ready for placement directly from the truck.

---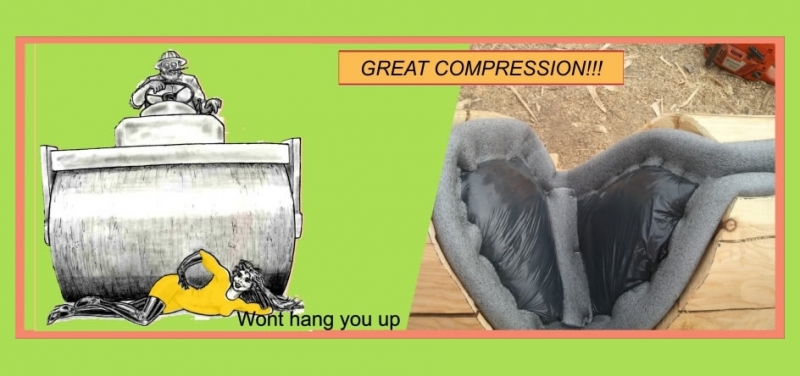 P Gasket is made of Polyethylene Foam. Environmentally friendly and extremely lightweight. Excellent insulation and performance. Applications include:Scribed Log Homes - lateral grooves and notches and at material interfaces; window bucks, door openings - any areas where settling requires free movement. Also useful for Modular Homes and Trailers.
---
Excellent Compression Recovery - Compresses to 99%. Recovery to 97%


Open cell core, closed cell skin.
Approx 1.25" at bulb - 2" long with stapling flange. R Value: 4 per inch. Stapling Flange allows for a continous un-broken seal.
---
Installs easily during construction or on tear-down and in all kinds of weather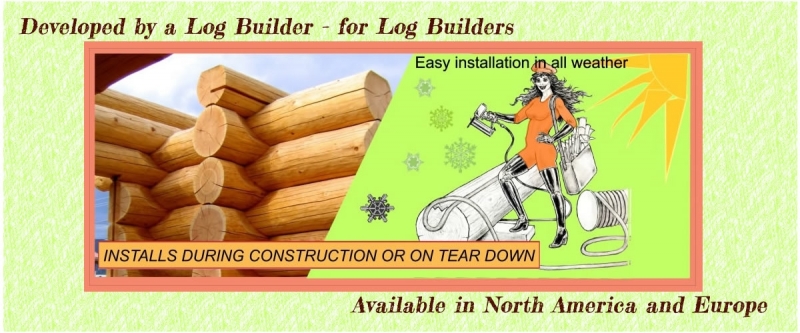 No More exploding-in-the-sun, or too-wet-to-stick log home type tape. Reduces handling and saves time at the customer's site. P Gasket installs in all kinds of weather and is installed at the log builder's site under controlled conditions.
---
Will save your Customers time and expenses during re-set!

P Gasket is priced competetively which allows builders to offer a better log home to their customers. Pre-installed P Gasket will off-set costs during re-set and will save labour costs, crane time and truck wait time too.
MSDS and General Info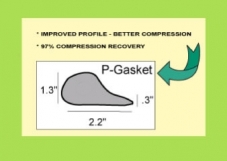 Our gaskets are made of Polyethylene Foam, an environmentally friendly and extremely lightweight product that boasts excellent insulation and performance characteristics.
P Gasket; Stapling flange assures un-broken, continuous seal. Approx 1.25" at bulb - 2" long with stapling flange.R Value: 4 per inch
READ THE MANUFATURERS SPECIFICATIONS HERE
There are quite a few log home tape gaskets used in insulating log home laterals, some with very good compression and compression recovery - but the problem we encountered with open cell tape type gasket was unless it was installed in ideal weather conditions, it expanded prior to positioning in laterals when exposed to heat, had ineffective adhesion when installing in damp conditions, and it's open cell attributes meant it sponged water when uncompressed.
Regular closed cell backer rod addressed the problem of water wicking, but was is insuffiently compressable and the closed cell core collapsed under pressure and had no recovery.
While on a log shell reset in North Carolina, John noticed a similar gasket product on a mobile home - but this gasket had a P shaped profile. "Eureka!", says John, "a stapling flange!" and the search was on to discover the source of " P Gasket". To make a long story short, we began selling P Gasket to fellow log builders who shared our commitment to building quality scribed log homes.
Since then, we have managed to reduce our prices for the product in half, which given the performance record of P Gasket, makes it a very cost effective option.